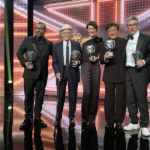 On October 25, 2019, Jackie Chan was honored with the Albert R. Broccoli Award for Worldwide Contribution to Entertainment at the British Academy Britannia Awards ceremony in Los Angeles.
The award was presented by Vin Diesel, and other honorees for the evening included Steve Coogan, Normal Lear, Jordan Peele, and Phoebe Waller-Bridge.
The first Britannia Award was presented in 1989 to Albert R. Broccoli, pioneer producer of the James Bond Films. The ceremony has now expanded to include multiple presentations celebrating living legends, rising British stars and internationally acclaimed colleagues.
© 2019 The JC Group, All Rights Reserved