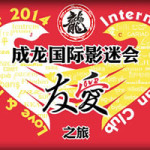 Update: February 24, 2014
We've received many emails and enquiries about bringing partners or immediate family members to the international fan club tour.
Unfortunately, because capacity numbers at various venues is limited due to size and space, we can only allow the lucky draw winners to participate in the line up of events for the fan club tour. Please understand, there are a limited number of seats available for Jackie's concert, limited space at the fan club party and JC Film Gallery, and limited train tickets for the trip from Beijing to Shanghai. Please kindly understand that we must keep numbers restricted otherwise some fans might miss out!
Also, many fans have asked about extending the registration date to confirm your place at the fan club party tour. We understand that fans require time to apply for their visa's to China. So, we have extended the confirmation date to March 10, 2014. This gives fans over 2 weeks to apply for their visa and complete airfare bookings. But the sooner fans can submit their details to Tour Group Organizers, hotel rooms and transportation can be appropriately arranged for attending fans.
We thank you for your continuous support for Jackie and appreciate your enthusiasm to attend.
Don't forget to fill out your details and have it submitted asap!
The JC Group Team
Beijing, Shanghai – China
April 6th – April 10th, 2014
==============================================================================
Update: February 20, 2014
Applications to attend Jackie Chan's 60th Birthday Party ended on February 14, 2014 (11.59pm Hong Kong Time). We received over 5000 applications from fans all over the world. Jackie would like to say a big "Thank You" to all his fans for your unconditional and continuous support. Today, Jackie especially took out some time from his busy schedule to personally draw out the lucky fans to come join his party.
Jackie has just begun drawing the lucky fans under the witness of Lawyer Gao Zhong Yang, Beijing. This is a fair and random lucky draw so we wish all applicants the best of luck!
Once the draw is complete, we will notify all lucky draw winners by email which will contain an official congratulatory letter for you to attend the International Fan Club Tour Party in April, 2014. Furthermore, lucky draw winners will receive an email within the coming week from an appointed representative of the tour group organizer. (Please take note that lucky draw winners must reply to the tour group organizer email with requested details in order to participate at the event.)
Thanks again to all the fans who emailed an application for the party. Good Luck!
=========================================================================================
ジャッキー・チェン 60回目の誕生日パーティの応募が2014年2月14日にて終了しました。(香港時間11:59)世界中から5000以上もの応募があり、ジャッキーはいつまでも変わらない暖かい応援に、とても大きな「ありがとう」を伝えたいと言っています。今日、ジャッキーが忙しいスケジュールの中時間を作り、自らパーティに参加するラッキーなファンの抽選を行いました。
ジャッキーがたった今、弁護士のGao Zhong Yangの立ち会いのもと、抽選をはじめました。公正で無作為の抽選です。全ての応募者の幸運を祈ります!
抽選が終わり次第、ラッキーな当選者にはthe International Fan Club Tour Party in April 2014に出席するための、オフィシャルなお祝いの手紙がメールで送られます。さらに、当選者は来週中までに主催者に選任された代理人からメールが届きます。(当選者はイベントに出席するために、代理人からのメールに必要事項を記載の上、返信をしてください。)
メールで応募してくれたファンのみなさま、本当にありがとうございます。幸運を祈ります!