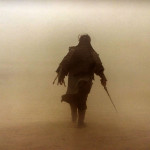 Jackie Chan's upcoming new movie, "Dragon Blade", is to be released in IMAX 3D format in China in time for Chinese New Year.
The film, which also stars Adrien Brody and John Cusack, will be remastered into the giant screen format and released by the Shanghai Film Group on Feb. 19, 2015.
"Dragon Blade," from director Daniel Lee ("White Vengeance," "14 Blades"), follows a Roman general (Cusack) who, after crossing into China, befriends a former high-ranking Chinese official, played by Chan.
The picture is produced on a $65 million budget and is one of the most expensive Chinese films of all time.

 Text from Variety
Pictures © JC Group 2014