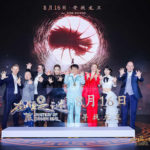 On August 12, 2019, Jackie Chan attended The Mystery of Dragon Seal 《龙牌之谜》Premiere Press Conference Event in Beijing alongside actresses Yao Xingtong, Li Mengmeng, Russian director Oleg Stephchen and Russian actress Anna Churina.
In the movie, Jackie plays a master wizard who faces off with Hollywood superstar, Arnold Schwarzenegger as a sea captain.
The film will be released in China and Russia on August 16, 2019.