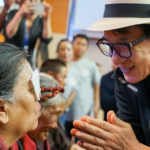 On August 10, Jackie Chan and the Beijing Tongren Ophthalmology Department initiated a "Charity in Tibet" operation, aiming to help the visually impaired in Tibet re-gain vision.
The Jackie Chan Charitable Foundation (Beijing) and the Beijing Tongren Zhang Xiao Lou Ophthalmology Charitable Foundation supported the cause where 55 successful eye operations were recently completed for local residents in Tibet. The event was held at Tibet Hospital were Jackie donated RMB$2 million to the Beijing Tongren Ophthalmology Charitable Foundation and also assisted with uncovering patient's gauze dressings after the event.
Because Tibet is geographically located in high altitude, the area is well known for its high rate of cataract.